When most people think about dog training, they think "tricks." Dogs doing sits, downs, and stays, rollovers, high-fives, and sitting up on their haunches. There are books about the 101 tricks you can teach your dog to do with a carboard box. And the beauty of these tricks is that they're not hard to teach, as long as you have a reward your dog really likes, a way of marking the moment they do something right, the patience to teach the trick in small, incremental steps, and the wisdom of when to raise the bar and ask for your dog to do something a little bit harder. Keep upping your criteria and bingo, you have a fully trained behavior that your dog will perform after a single command.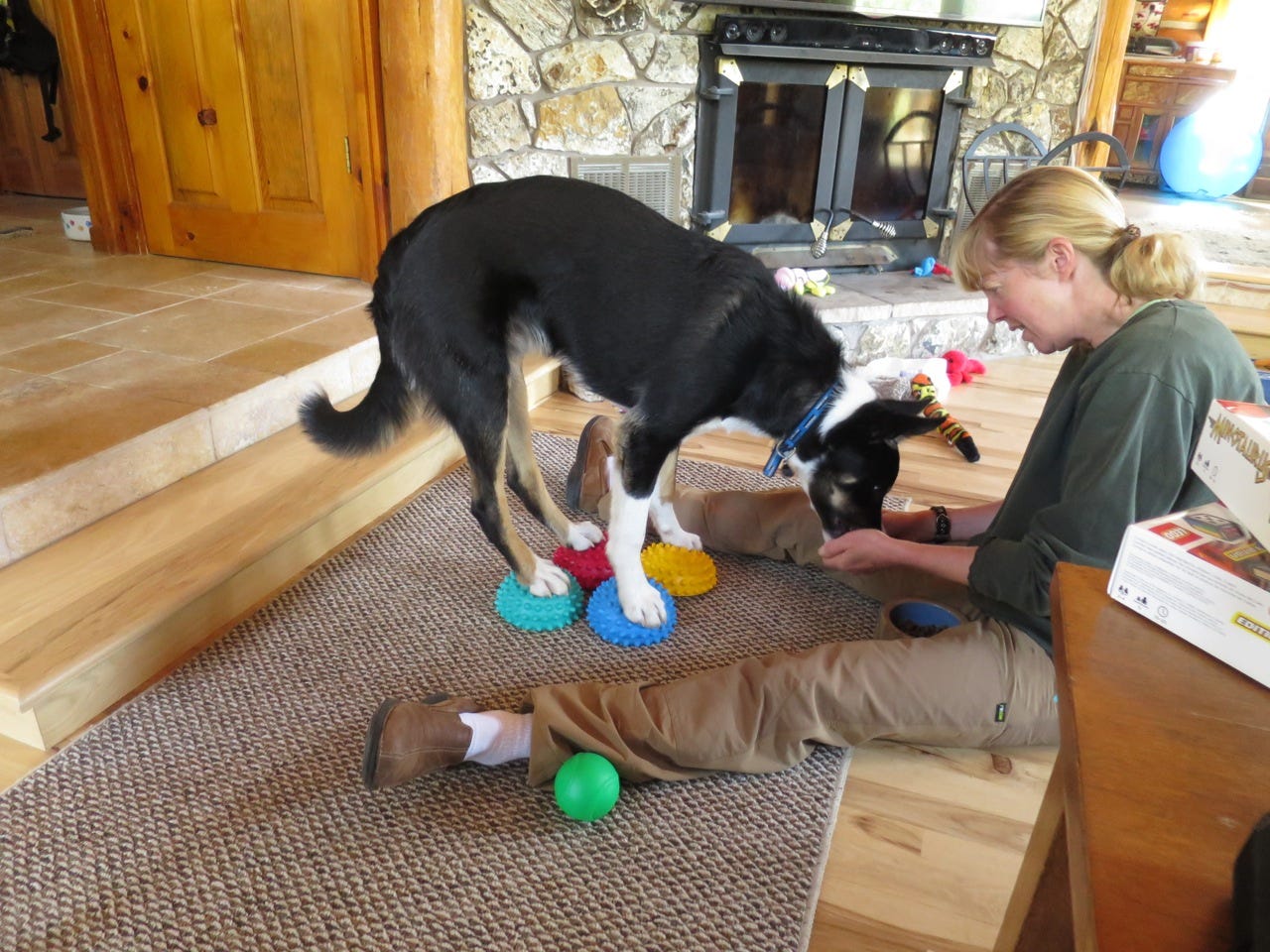 Wouldn't it be great if we could write books that way?
Impossible, you're probably thinking. Writers aren't dogs, or monkeys, or seals with balls on our noses! We're artists. Creatives. We write when the muse calls, through a magical process that's known only to us. Other writers might have the tiniest glimmer of understanding of how it works—but they'll have trouble describing it if pressed.
I disagree. Now, I appreciate my muse as much as any writer ever does. I know all too well that glorious feeling of urgency when I'm in the throes of a work-in-progress—when I must simply write rather than think, when my soul pours into the words flowing off my fingertips and onto the page. But this sort of writing is the end result of study and planning. I know it's good writing because I've spent years teaching myself all the writerly tricks of the trade. I've studied premises, first pages, inciting incidents, plot arcs, character goals and development, dialogue, voice, pacing, show versus tell, world-building, how to use backstory effectively, and on and on. Most important of all, I've come to appreciate that these components of writing—these "tricks," if you will—can be synthesized into something that's greater than the sum of its parts. The humongous, artful, creative, and tricky masterpiece of a good story.
It's possible I think about writing this way because of my background as a dog agility trainer. I still remember the epiphany I experienced when I learned from another trainer that agility is nothing more than a series of tricks.
Whoa, you might be saying. Aren't all dogs agile until they get old? Why would you need to train them in something called agility?
You've probably caught a glimpse of agility on television or in someone's back yard, or you've glazed over when a dog-owning friend of yours complained to you about how expensive their agility classes have become. But on the chance that you haven't heard of it, dog agility consists of directing a dog through a course filled with obstacles. These include fun things such as jumps, tunnels, tire jumps, weave poles, and giant painted structures (teeter-totter, A-frame, and a long, skinny plank called a dogwalk). In competition, two courses are never the same, and each run is timed so that dogs are judged both on speed and on whether they run the course without accruing any faults (knocked bars, wrong courses, refusals, and many, many more).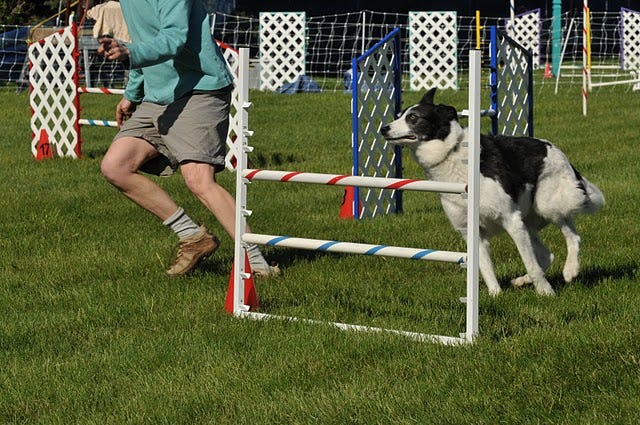 Just as people don't need to come from a particular background or level of education to learn to write effectively, dogs don't have to be innately "agile" to participate in the sport of dog agility. Sure, some dogs are better at it than others (okay, a lot better), but this mostly has to do with motivation and not with any genetic differences that predispose them to the skills.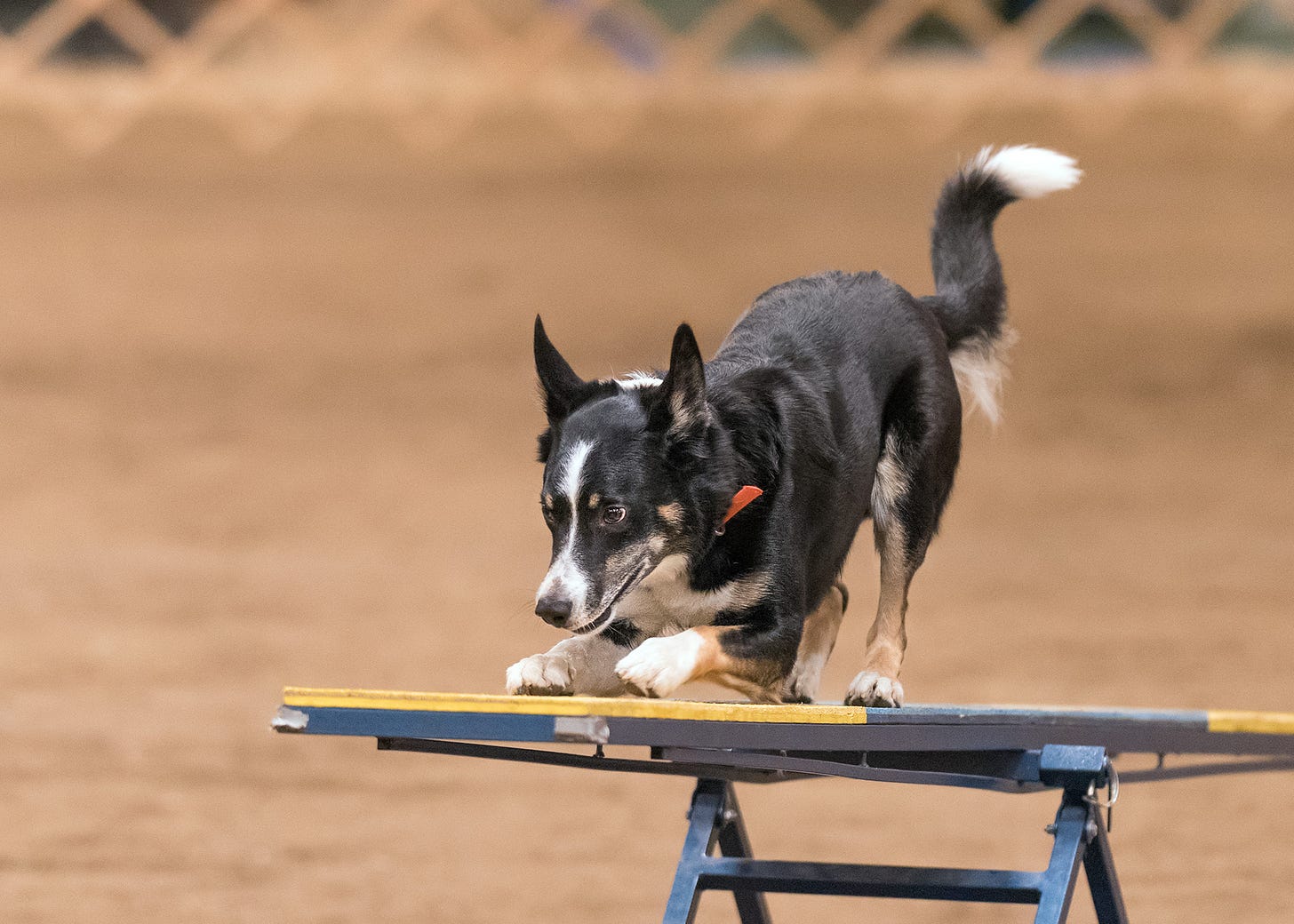 Lest this lead you to think that agility is easy, I can assure you that it's not. There are invariably students in beginning agility classes who assume that all they need to do is clip a leash on their dog and cajole them over the jumps, haul them onto the contact obstacles (the A-frame, teeter, and dogwalk), and stuff them into the tunnels. They're certain that they'll be doing a full course by the end of the first class.
But I forgot to mention that there are no leashes. And dogs need to learn how to run through courses they've never seen before without any mistakes. At full speed. An inexperienced handler attempting to achieve all this in one evening is akin to a novice writer whipping out a captivating, error-free book on the first try. I suppose it could be done (in a parallel universe?), but the chances are infinitesimally small.
This is why my beginning students don't start on the obstacles. They get foundation training, in which they learn how to shape their dog's behaviors into lots of little tricks. Because the foundation I teach is specific to agility, the tricks dogs learn all lead to something they eventually need to do. Some are so basic that the dogs may already know them, like sit, down, stay, and recall. Others are a bit more advanced, like learning to "go on" to some distant point away from their handler, or learning to move by their handler's side at a walk or a run, stopping when they stop, and switching to the other side when signaled to do so. They'll even get to start learning how to interact with the obstacles—the ends of the contact equipment, the openings of tunnels, the standards of jumps (but no bars!).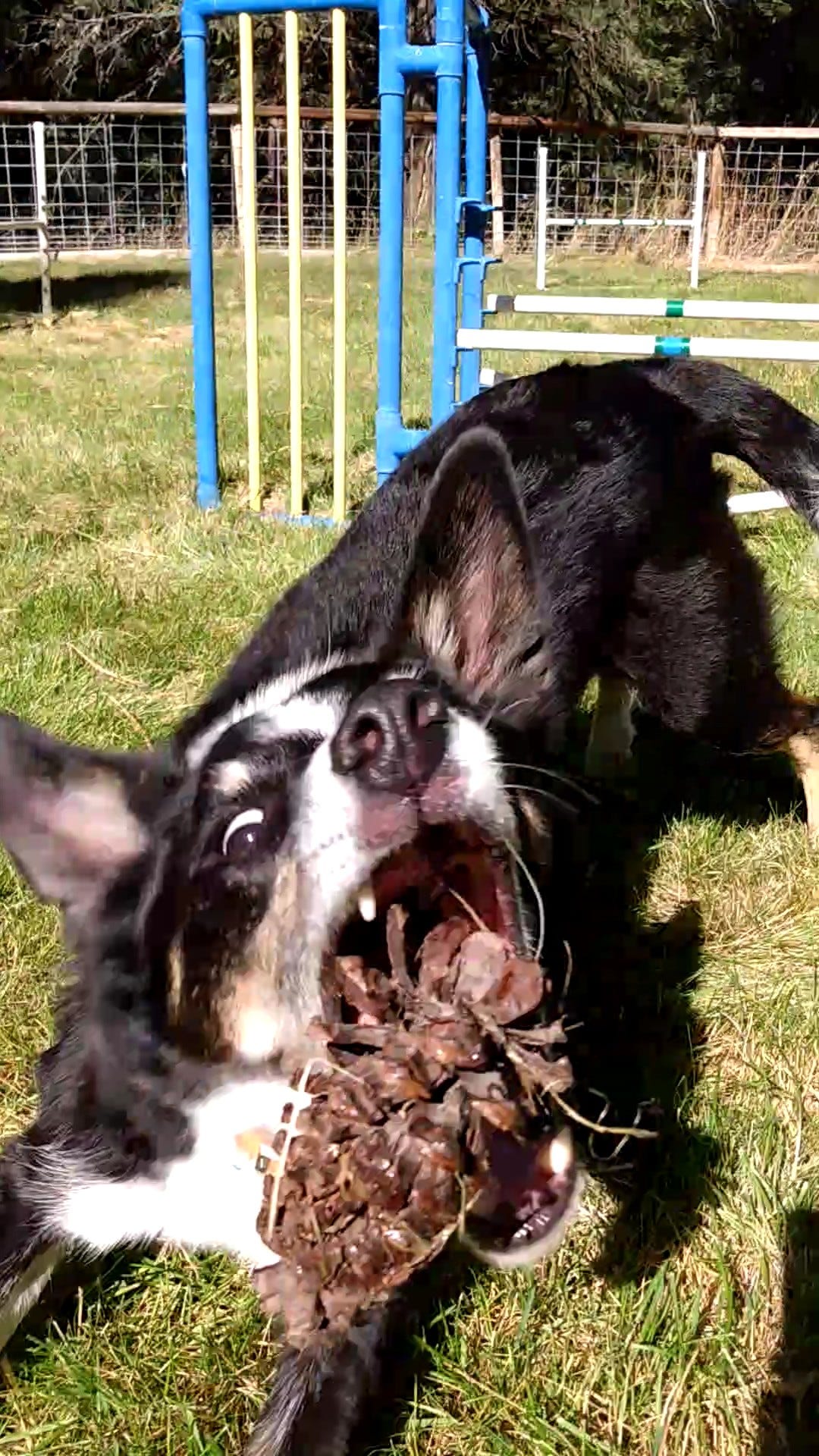 Similar to writing a book, agility training happens in many stages. After dogs learn how to work and move with their human handlers, they need to become comfortable with the individual obstacles. Once they're performing an obstacle correctly and confidently, they're ready to learn its name, so they can run to it when they're commanded to do so (beware of assigning names to things too early, or you'll end up having to say "tunnel" five times while your dog runs around it or stares cluelessly at you). Finally, dogs have to learn how to string obstacles together into sequences and to understand both verbal and body language signals in order to know where to go next on course.
After lots of time learning the little things, Moth & I became a team
The main point I'm trying to make here is that for agility dogs and writers both, it takes time and lots of patience to learn the craft. But as you master the tricks of your trade, you'll be able to string them together into an entire manuscript. This masterpiece is the most tremendous trick of all—and only you will know just how much work went into it.
Happy Tales!